Are you looking for a brand-new phone system for your dental office? Upgrading your communication technologies nowadays can be a bit more complicated. This is because technology is moving faster, and as more features and benefits are introduced for phones in the market, those in charge of making the decision are often left wondering, 'Which one will work best for me?' 
First, a dental office communication system should be a tool that helps office staff deliver exceptional patient care. This is achievable through a few features of modern phones, which we'll mention below. Beyond the features, we'll also explore the benefits of choosing a phone that helps you deliver top-tier patient care. 
The Changing Landscape of Dental Practice  
The concept of customer care has evolved in the past few years. Patients expect faster and easier processes, but most importantly, they expect a level of personalization that allows them to connect with their practitioners. More than 65 percent of people have higher customer service expectations today than three to five years ago.
Furthermore, patients are more informed and tech-savvy than ever before. They expect fast communication, convenient appointment scheduling, and easy access to their dental records. Meeting these expectations is not just about improving patient satisfaction; it's about staying competitive in your field.
So, what role does your phone system play in all of this? Your phone system is often the first point of contact between your practice and potential patients. A modern, efficient, and patient-centric phone system can be a game-changer.
Understanding Patient-Centric Features
A dental office communication system should have patient-centric features that facilitate staff operations. Thirty-three percent of customers are most frustrated by having to wait on hold. Another 33 percent are most frustrated by repeating themselves to multiple support reps. Patient-centric features in your communication help you avoid patients turning away from your business. Let's explore how.
Auto-Attendant
An auto-attendant is your practice's virtual receptionist, available 24/7 to greet callers and direct them to the correct department or extension. This feature ensures efficient patient handling, saving time for your staff and patients. With clear and concise menu options, callers can navigate to the appropriate destination, reducing wait times and ensuring they reach the right person for their needs.
Call Routing and Management
This feature directs incoming calls to the most suitable team member, whether the front desk for appointment scheduling, the billing department for financial inquiries, or a specific dental practitioner. By implementing smart call routing, you can reduce patient wait times by avoiding unnecessary transfers, making it easier to set up patient appointments, and creating a smoother and more satisfying experience.
Voicemail and Call Recording
Voicemail allows patients to leave messages after hours or when staff are busy and have to miss calls. Call recording, on the other hand, serves multiple purposes. It enables you to review patient interactions for quality assurance, ensuring staff members provide the best service possible. It's also a valuable tool for training new team members, allowing them to learn from real-life patient interactions and improve their skills.
Appointment Reminders and Confirmations
Automated appointment reminders can significantly reduce no-shows. Did you know that missed appointments cost practices approximately 200 dollars per session? But with a reminder-confirmation system, you can gently nudge patients to keep their appointments. By implementing this feature, you minimize revenue loss and enhance patient engagement. Confirmations, whether through text messages or automated calls, allow patients to acknowledge their appointments easily, ensuring they are committed to their scheduled visits.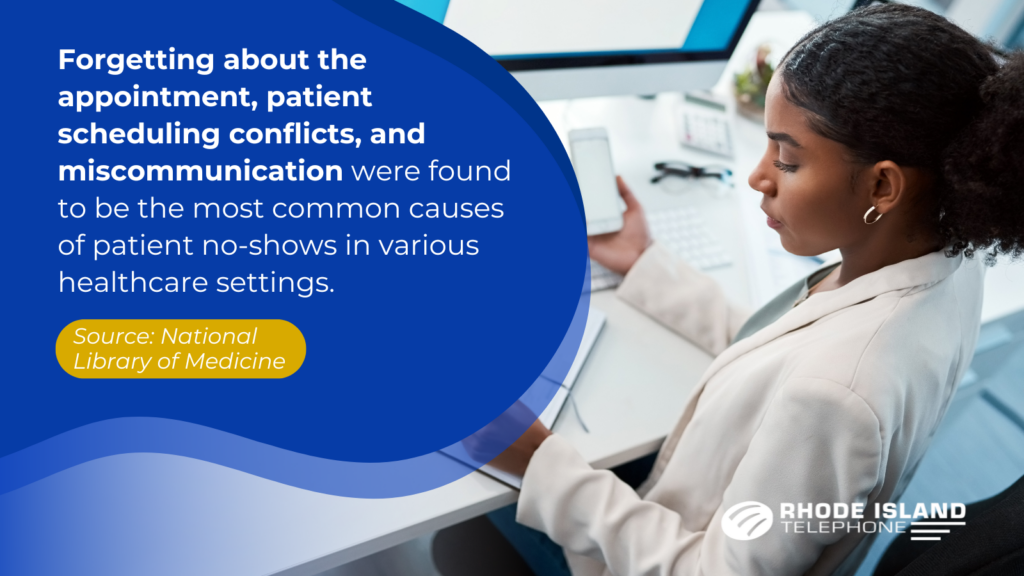 Custom Greetings
Custom greetings are an opportunity to make a memorable first impression. They allow your practice to convey a professional and friendly tone, setting a welcoming, patient atmosphere. Personalized greetings can also provide essential information such as office hours, emergency contact details, or any special announcements, ensuring that patients are well-informed when they make their initial call.
Fax to Email
While we embrace digital communication, the healthcare industry still relies on certain traditional methods, like faxing. Fax-to-email functionality bridges the gap between modern communication and older practices. It allows your practice to receive faxes electronically, ensuring you stay up-to-date with vital patient documents and records while reducing the hassle of paper-based workflows.
HIPAA Compliance and Data Security
When choosing a dental office communication system, you can't forget about data security. Staying HIPAA compliant is important to keep your patients safe and avoid your practice being at risk of lawsuits or even having to close operations. No matter the size of your practice, a HIPAA violation can cost millions. Even for smaller healthcare companies, costs can be significant, with each HIPAA violation costing between $100-$50,000 per patient record.
A modern dental office communication system is crucial in maintaining HIPAA compliance. These systems incorporate advanced encryption and security protocols to protect sensitive information during transmission and storage, ensuring compliance with privacy regulations. By implementing robust data security measures, healthcare providers meet legal requirements and build trust among patients.

Ready to Optimize Patient Care with a Dental Office Communication System?
Don't miss the opportunity to enhance patient experiences and streamline your operations. Contact Rhode Island Telephone now and discover how our advanced phone system can significantly impact your dental practice. Your patients deserve the best; we're here to help you deliver it. Upgrade your phone system with Rhode Island Telephone and take the first step toward a brighter, more efficient future for your practice. Contact us today to get started with your dental office communication system!