Proper communication is one of the most important tools that any person in the medical field has. Those in the dental industry are no exception. Having constant and efficient communication with colleagues and patients is the best way to ensure proper care. Still, even beyond that, your day-to-day operations must run smoothly.
If you are wondering what is missing from your dental practice to achieve a high level of communication, we have the answer for you: a dedicated dental phone system. A modern-day dental phone system should be able to do much more than just make and receive calls, and that's why over here at Rhode Island Telephone, we've developed the perfect phone system for dental practices. Below we'll share the significant impact a phone like ours can have on your dental practice.
Elevating Patient Care
Let's chat about those old phone setups you might still find in some dental offices – the ones that feel stuck in the past. They might have served their purpose once, but now they're causing more trouble than they're worth.
Think about all those missed calls – and unwanted bottlenecks because of missed communication between your staff. Patients call in for appointments or with questions, but if the lines are jammed, or calls aren't directed properly, they're left hanging. Not a great start, right? A modern-day dental office phone system has advanced features that eliminate these issues, such as:
A. Seamless Appointment Scheduling
Our phone system makes appointment scheduling easier than ever for your patients, and for you, it creates a seamless system where nothing is missed anymore. We know that patients missing their appointments or information getting lost in the mix can also put a strain on you, so that's why our system does the following:
1. Automated appointment reminders: Keeping track of appointments just got easier. Set up the system to send reminders so patients and staff are on the same page, reducing no-shows and last-minute cancellations.
2. Integration with practice management software: Sync your phone system with your management software; this will help you keep patient scheduling and records right where you need them, on one centralized platform.
B. Personalized Patient Interactions
1. Caller ID integration for patient information: No more fumbling for patient details mid-call. With caller ID integration, staff instantly access patient info, making interactions more personal and efficient.
2. Call routing to the patient's regular dentist: Multiple dentists in your clinic? Calls can be routed directly to the patient's regular dentist, ensuring they talk to someone who knows their history.
C. Reduced Wait Times and Improved Satisfaction
1. Call queuing and efficient call handling: No one likes waiting on hold forever, and more than 65 percent of people have higher expectations for customer service today than they did three to five years ago. With call queuing, patients know they're in line, and efficient call handling means they won't be waiting long.
2. Prompt and effective responses to patient inquiries: Patients have questions and want answers now. With prompt responses and effective solutions, patient satisfaction gets a major boost.
Streamlining Communication and Practice Efficiency
It's not all about the patients, though. Yes, they are the most important element of your practice, but the only way to give them quality service is to have an organized and productive team that can easily do their job. Our dental phone system is designed to make your life easier. It's built with a user-friendly interface, but more than that, it facilitates integrating other communication tools that you already use, helping you have a unified communication experience. Here's how that happens:
A. Unified Communication Channels
1. Integration of voice, email, and messaging: Imagine having all your communication tools in one place. That's the power of unified channels – a seamless blend of voice, email, and messaging, ensuring no message goes unheard.
2. Easy access to patient records during calls: No more flipping through endless files. During calls, staff can access patient records right then and there, making conversations more productive and personalized.
B. Real-Time Collaboration Among Staff
1. Call transferring to the right department instantly: The team can easily help each other when needed by simply transferring calls in real time. More than 50% of workers in the United States say their jobs rely on collaboration. Collaboration can be a determining factor in a job well done in a medical office.
2. Improved coordination among front desk, assistants, and hygienists: Teamwork makes the dream work. Think of it as teamwork on steroids. With real-time collaboration, the front desk, assistants, and hygienists can communicate seamlessly, ensuring patient needs are met without the usual back-and-forth.
C. Centralized Communication Management
1. Call logs and analytics for performance evaluation: Data is power, and call logs and analytics provide insights into your communication performance. It's like a report card for your practice's communication effectiveness.
2. Training opportunities based on call recordings: Learning from the best (sometimes the not-so-best) is a great way to improve. With call recordings, staff can learn from real-life interactions, fine-tuning their skills for better patient engagement.
Future-Proofing Dental Practices
The global VoIP phone system market size in 2018 was $20 billion. In 2025, the value is projected to reach $55 billion. This statistic shows that more and more businesses are leaving behind traditional phones and switching to cloud technology now and in the foreseeable future. Your dental practice can't be left behind. It is important to stay up to date with technological advancement; switching to a cloud-based dental phone system is just the way to do that.
Our phone system is adaptable and highly scalable, making it easy to add new lines and features as your practice grows. Here are a few things that future-proof your dental practice: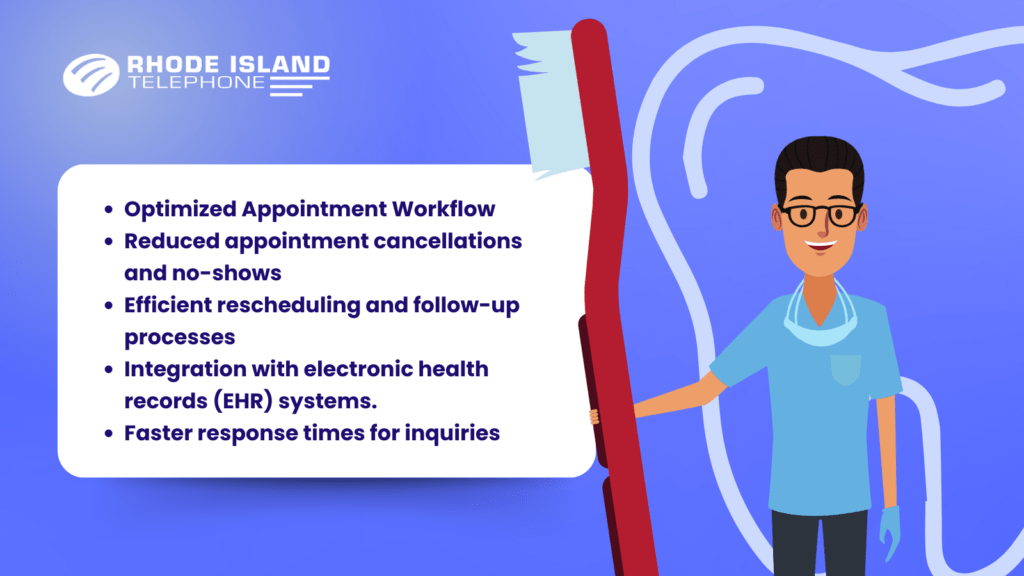 Ready to Upgrade Your Practice? We are Ready to Help You!
Upgrade your dental practice with a cutting-edge dental phone system from Rhode Island Telephone. You'll experience seamless patient interactions, improved staff productivity, and unparalleled communication reliability when you do. Contact us today for a personalized solution tailored to your practice's unique needs.