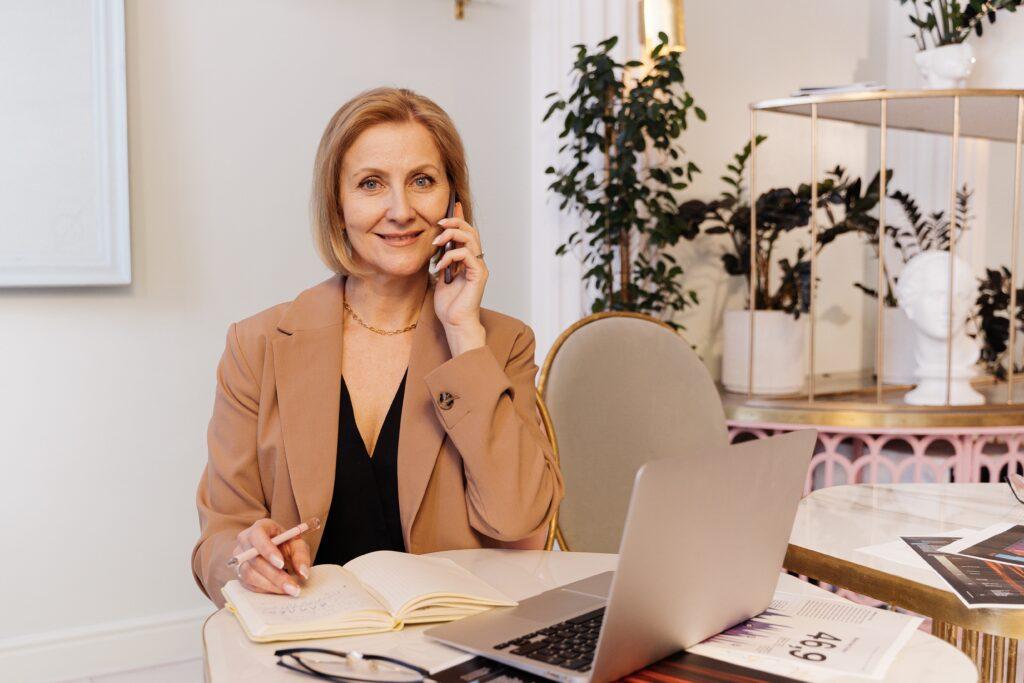 Picture this: you're the proud owner of a new VoIP business phone solution. You're still learning the ropes, but you and your staff are all getting the hang of it together. You're pleased with what you've reaped so far, but as your comfort with your new phone system increases, you want to make use of every benefit your mobile VoIP provider can give you.
One add-on that's really picking up steam is none other than mobile VoIP, a cost-effective feature associated with your recent upgrade. 
What is Mobile VoIP?
Mobile VoIP is a feature of a business VoIP phone solution, needing only an internet connection to work. It delivers faster speeds, it's efficient, and is cost-effective. With mobile VoIP, you can use your smartphone to download a mobile app, with Rhode Island Telephone you can use our CloudWorx app, which is easy to install. The app connects to your phone network to connect to wi-fi when you're on the road and away from your desk. Let's dive deeper into a few of the ways mobile VoIP makes your life a little easier. 
5 Benefits of Your Mobile VoIP Phone Solution
#1. The World is Your Oyster!… Er, We Mean,
Office.
In the dark days before cell phones and home computers became commonplace, the people who worked from home with any frequency were a rare breed. The Digital Revolution has populated the face of modern industry with on-the-go executives and employees. Since the COVID-19 pandemic, approximately 25% of the United States' workforce telecommutes with some regularity, and 90% report an interest in telecommunication on at least a part-time basis. What this indicates is clear: modern professionals all across the country (and world) aren't commuting to the office like generations before them, the business landscape has changed. That's why you should care about telecommunication; it's the only cure. If you free your staff members up to work remotely, you give them more opportunities to work smart and more ways to feel comfortable while they work.      
#2. Maintain a Consistent Customer Experience
When your office phone is in your pocket, you can do business from anywhere at any time and be no less professional than you would from behind your desk at work. Calls can be transferred to any telephone number in the world. Transferring a call to a cell phone is as easy as transferring the call to another extension. This means that when your clients rings you up on your mobile line, they're seamlessly directed right to 'Professional You' – whether you're at the office, multitasking at home, or working from the road.
If you frequently find yourself on the go or simply prefer working from home, having a VoIP system installed on your device gives you and your entire team round-the-clock access to your office phone, and it keeps your staff interconnected no matter where you and your team venture!      
#3. Mobile VoIP is the Wave of the Future
When was the last time you heard about reliable troubleshooting for faulty telegraph machines? What about blog posts with titles like "5 Benefits of Being a Pony Express User?" Unless you've been pouring over satirical blogs and antique newspapers, your answer was most likely "never." Those forms of communication were once revolutionary and cutting edge, but now they're antiquated. With the rise of one innovation comes the death of an old standard, and let's face it: landlines are on their way up to that great Service Provider in the sky, leaving cellular devices to reign supreme. This is where mobile VoIP comes in. In 2015, 15% of all American businesses reportedly used VoIP mobile capacities, and that number is expected to climb even after the pandemic surge when nearly 70% of Americans were working from home in some capacity. As VoIP rises in popularity, it will become more and more streamlined. It's a phone solution that's growing into a technological juggernaut, but it's also becoming a staple of corporate communication. In turn, VoIP's success makes analog phones less competitive, and therefore, less useful.    
#4. BYOD Policies are Spendthrift Friendly
Mobile VoIP exists as an added bonus on top of your already cost-effective VoIP business phone solution. Combining this solution with a Bring-Your-Own-Device policy allows you and your employees to leverage personal mobile phones to power business communication in the palm of your hand.
This means you aren't just shielded from the old-timey horror that is a traditional analog phone system, but you also save yourself the trouble of untangling the financial sailor knots associated with personal devices. VoIP services frequently come with free tech support from the provider eliminating stress over minutes or roaming charges, no more overpriced manual hardware updates, and no more fees paid to outside IT teams.
#5. It Does Tricks Too!
Enabling your phones with a VoIP solution will improve your business line situation, but this handy little feature also has the potential to perform a myriad of different functions. Your mileage may vary, depending on your service provider, but prime possibilities include everything from automated text message (SMS) notifications to "Follow Me" features that automatically transfer your business calls to as many of your devices as you wish– including landlines! If you're still shopping for a VoIP service provider and you've got a mind towards a BYOD policy, make sure to vet your options for the features you and your staff find the most useful.
When one person has their office in their pocket, that's convenient. When an entire team can say the same, they become a well-oiled machine. It doesn't matter whether the individual parts are on-site or off; your business will be an automaton that never stops functioning at full capacity. But make no mistake! The right service provider makes all the difference, so choose wisely. 
Contact Rhode Island Telephone for a free quote and to learn more about what mobile VoIP can offer your business.