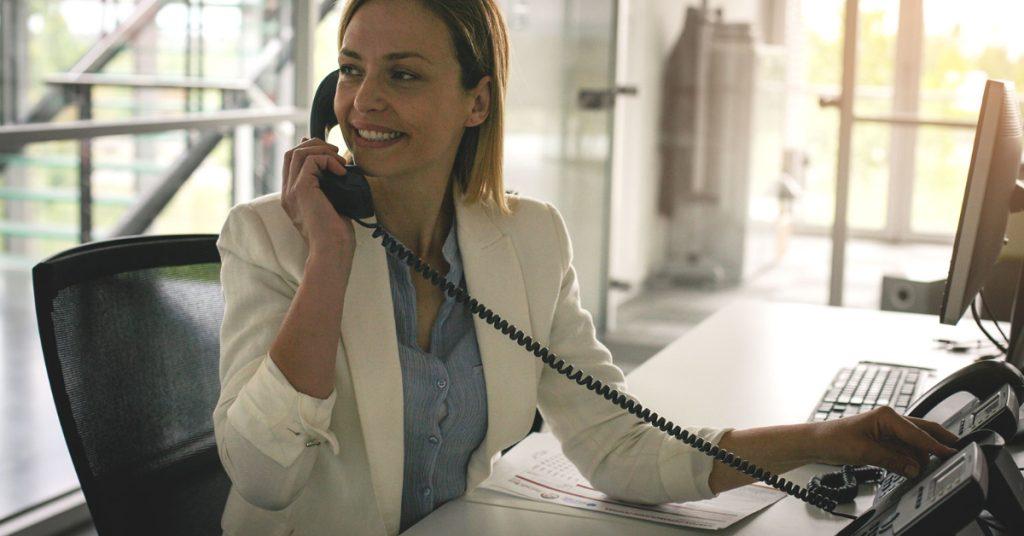 The decision to upgrade, be it a routine software update or a complete tech overhaul, can be a daunting one. Perhaps you're worried that making a change could result in more losses than gains, or maybe you're simply afraid that an analog vs VoIP phone system will be too confusing to transition to. No matter what's causing your nerves, it's okay! It's natural to be apprehensive about forks in the road.
If you're uncertain about your ability to mesh with a digital phone solution or just plain attached to your office landline, have no fear! The result of the "analog vs VoIP phone" dilemma doesn't have to result in "either/or"; if you shop carefully and find the right service provider, a VoIP office phone solution will let you have your cake and eat it too.    
The Perks of Premise Based Hybrid Solutions
A traditional analog phone system is a landline, also known as POTS (Plain Old Telephone System). They haven't changed much over the years, and if you've been using them without any issues or need to upgrade then you should probably keep everything the way it is. However, if you're needing more features or want the flexibility of VoIP, you can have both without debating between VoIP or a  landline. 
Any VoIP system, be it cloud-hosted or premise-based, will be optimized for flexibility and interconnectivity among you and your team. Premise based hybrid solutions, such as Avaya IP Office, essentially exist as a mid-point between CloudWorx and traditional PBXs, offering a convenient mix of each systems' best features. The right solution serves as an integrated system that handles phone calls, video calls, messaging, and even faxes to streamline interpersonal communication. Instead of having to sort and sift through several applications or devices– each with their own set of logged numbers and contact information– everything is managed under one secure roof: your roof!
The Perks of Cloud-Based Phone Solutions
VoIP phones operate through an internet connection. You need to have a reliable internet connection as well as the correct network cabling to ensure VoIP will work for your business. But there are plenty of benefits to cloud-based phone solutions, the installation process is easy, and there's minimal equipment needed (if at all) to get started. Not to mention providers, like Rhode Island Telephone, have downloadable phone apps to allow you to start making phone calls as soon as you sign up for VoIP service.
When you have a cloud-based VoIP solution you can easily scale your phone system by adding extensions as your business grows, only a computer or cell phone is needed for calls, there are a variety of features (auto attendant/greetings, call recording, etc.) and the system is managed and maintained through your service provider for a monthly fee. 
With the freedom and flexibility to work anywhere – on a walk, at the grocery store, or just working from home – there's no need to stay connected to your desk or office. Since the system is managed through your provider, you can be sure that your system is secure and has a geo-redundant connection offering reliability in the event of an issue.   
Analog vs VoIP Phone Savings by The Numbers
Still comparing an analog vs VoIP phone system? Utilizing VoIP from the beginning has been known to help new businesses reduce start-up communication costs by as much as 90%. Even established small businesses can benefit from the savings VoIP enables, reducing the cost of local calls by up to 40%.
When you utilize VoIP from end to end (e.g. unified communication systems, messaging, and modern voice technology to support both analog and digital calling) you can save 43 minutes per employee per day, or as much as 55 minutes per day for remote workers.
VoIP Love's Your Landline!
A cloud-hosted VoIP system might suit your needs financially, but making that particular switch can seem like jumping straight into the deep end of a futuristic techie nightmare. Don't be fooled! Phones operating with IP-based technology offer all kinds of mobile perks, but that doesn't mean you have to throw your traditional landline out.
With special features that automatically sync your cloud phone with your landline, your instant messenger, and even your fax machine, you can manage any and all communication from whichever device(s) make you feel the most confident. Meanwhile, a Premise-Based Hybrid System fully embraces traditional PBX phones, it makes it so you don't completely have to choose between an analog vs VoIP phone system. Once you know which features are right for you and your business, you'll be able to find the right VoIP solution for your company.
Analog vs VoIP Phone: Your Choice
The personal touch offered through traditional phone systems is important for establishing trust with your clients and business partners alike, while fast digital communications within your company help work get done quickly and correctly, but you don't have to sacrifice one for the other. Shop around! When it comes to choosing between an analog vs VoIP phone, customize to your heart's content! Build the VoIP solution (be it hosted on your home base, a hybrid system, or under the cloud) that suits your needs and forgo that awkward "new tech adjustment" intermission without missing a beat.  
If you're having trouble deciding between an analog vs VoIP phone system, please feel free to contact us for a free consultation and assessment.