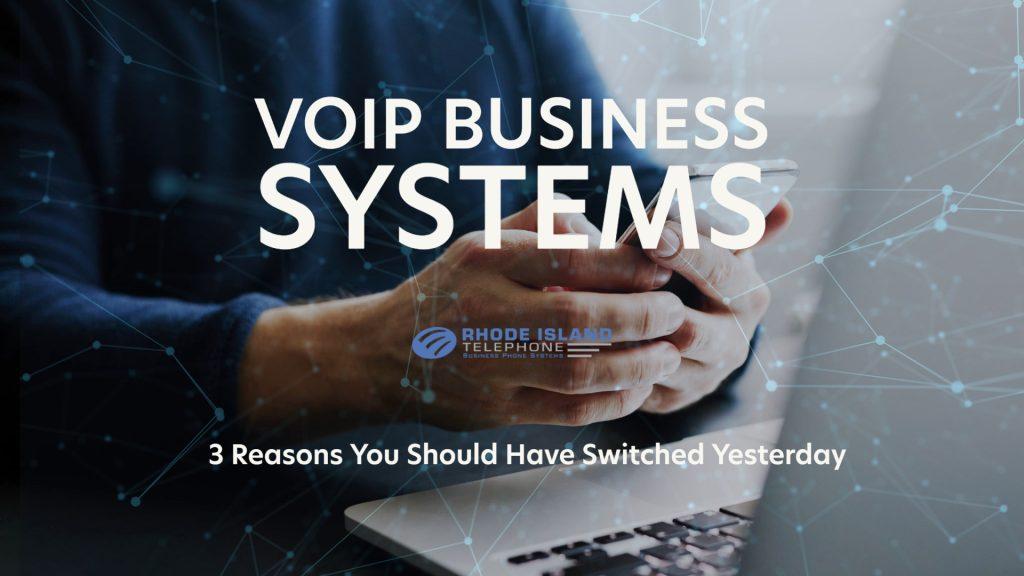 VoIP, Voice over Internet Protocol, is basically using your internet connection to power your phone service. VoIP business system technologies offer many advantages over the traditional phone system, leading to its increasing popularity among business owners.
By 2024 worldwide consumer VoIP traffic is expected to reach 1700 petabytes. What is a petabyte you ask? It's a large unit of digital data that is equal to the power of roughly 2.6 million 64GB iPhones! With mobile traffic soaring to new heights, IP business telephones aren't going anywhere. 
Instead of dealing with the hassle of a typical phone service contract, VoIP gives you the power to leverage the internet connection you most likely already have. Some businesses that are hesitant to go 100% VoIP, or are under a binding contract with their existing voice carrier, are opting to utilize a hybrid-based system – providing the best of both worlds.
You may be wondering how VoIP can benefit your bottom line. Here are three reasons you should consider switching your small business telephone system: 
VoIP Business Systems Have a Lower Cost
In general, the cost of your traditional business telephone is going to be substantially more than that of your VoIP costs. Under many plans, you can expect to see up to a 50% cost decrease. With cloud-based VoIP technology, you can see even more long-term savings through features such as free system management, automatic upgrades, and zero maintenance costs.
The diversity and growth of this market means there are a wide range of different plans that can work for your unique business needs. If you're wondering if a premise-based or cloud-based VoIP business system is best, there are benefits to both so you'll need to do your research. 
Expect Higher Functionality With a VoIP Business System
You might think that by being the lower cost alternative, switching to VoIP automatically means compromising on several important business phone features. You would be wrong! VoIP business systems offer a unique mix of low-cost communication with all of the features of an expensive business system. Benefits include:
Better access to employees
Customizable messaging
Easily grow your phone system as you grow your business
Better voice quality 
A remotely managed system
A secure network
With the evolution of the mobile workforce, traditional analog phones are simply not cutting it. Many VoIP solutions allow you to create virtual extensions, transfer calls to an external number, set up mobile softphone, and enable SMS notifications. Basically, your office can be anywhere you want it to be – providing it has internet access!
VoIP Business Systems Maximize Efficiency
Did you know that approximately 50% of all voice conversation is made up of silence? VoIP fills the empty silence spaces with data so that the bandwidth in your data communication channels is not wasted. Additionally, VoIP business systems tend to use energy much more efficiently than traditional phone systems, making it a green choice for your company.
Speaking of green, did you know that with a VoIP system you enable paperless faxing? Multiple users or departments can send and receive faxes directly from their computers.
If you feel like your business is lagging behind in voice technology, VoIP business systems will not only save you money and increase efficiency, but you won't have to compromise on critical features. Take note of your current phone system inefficiencies and consider common trends that indicate your company may be ready to move to a hosted VoIP system.
Sometimes it's easier to see how the system works before making a big decision. At Rhode Island Telephone, we'd be happy to have you join one of our CloudWorx training events to ask questions and try the system in real-time. If you're interested in a customized VoIP consultation, take your first step toward elevated communications by contacting us today!