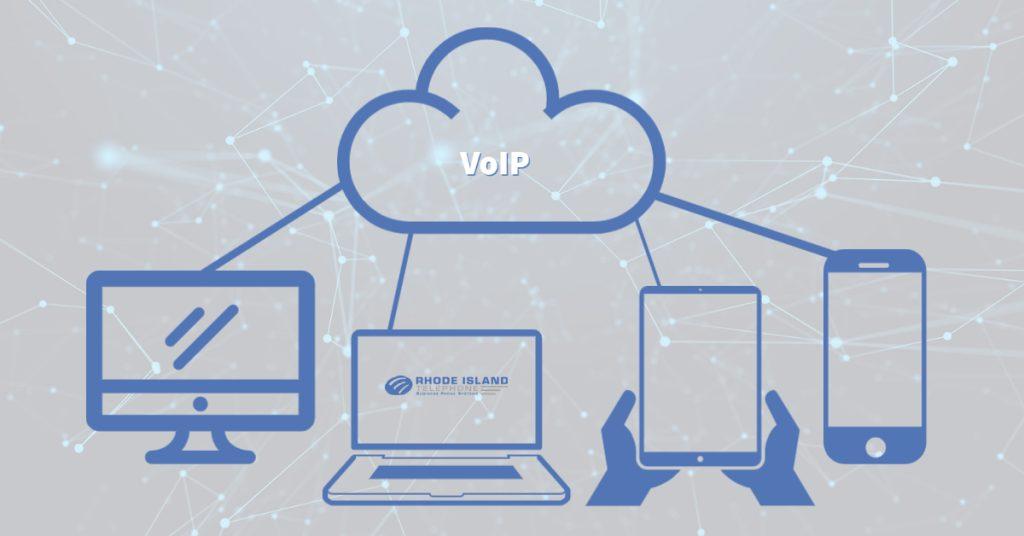 A quick Google search for "what is VoIP" yields results with words such as circuit-committed protocols, discrete packets, IP telephony, and audio codecs. You may be asking yourself, "what does any of that mean"?
When you're busy running a business, you want to find the best solution for managing business operations without getting a bigger headache along the way. In this article, we are going to break down the ins-and-outs of VoIP and how this solution can help your business communicate effectively – no Advil needed.
What is VoIP (and what does it Mean)?
VoIP stands for Voice Over Internet Protocol, but in more common terms it simply means connecting your phone service over the internet. You may have heard of an IP address, which is your internet protocol address that allows your digital devices to speak to each other over the internet.
With VoIP phones, you can make phone calls through your computer or other mobile device from anywhere in the world. Many businesses are opting to use the internet in place of a traditional phone company because the flexibility of an IP phone system and it's cost-savings. 
So how does it work?
During the normal course of business, we're sure you send emails, browse web pages, and maybe even started the Google search that led you here. Each of these activities requires an internet connection and some sort of information exchange behind the curtains.
The case is no different from VoIP. When you pick up your phone and place a call, your voice is converted into digital data that is sent over the internet. Whereas with a traditional (analog) phone line, your voice is carried across copper wires that are installed at your location. 
One thing to keep in mind when considering VoIP is that you don't necessarily even need a traditional phone anymore. The beauty of our connected world allows us to access internet communication not just in the office, but also at an off-site job, during an out-of-town business meeting, or maybe even while you're on vacation in another country.
What makes VoIP so special?
Traditional telephone systems are notoriously expensive, painful to upgrade, require an IT staff to manage, and keeps you chained to your desk. VoIP tends to have all of the features you've come to expect with a traditional phone system, but it truly shines with a unique set of application based functions. Instead of letting your local phone provider dictate what you can and cannot do with your phone, you now have the flexibility to customize a system suited to your business' individual needs.
Many companies now offer cloud-based VoIP, like our Cloudworx product, that includes all of the benefits of an expensive, enterprise-level system without the complex and costly-to-maintain equipment. In fact, VoIP can save a new business up to 90% in initial business phone startup costs. By connecting to the cloud, your VoIP service can be upgraded instantaneously, monitored 24/7/365, and easily scaled – all without the need to staff an IT team.
The next time someone asks you "what is Voip?" all you have to tell them is that it's a hassle free phone system!
What do you need to make your business VoIP compatible? 
There are different options for making your business compatible for voice over internet protocol technology. Cloud hosted versus premise based VoIP systems will require the following components: 
A VoIP server: The hardware for this will be stored in the office for a premise-based system, and a cloud-hosted server will be provided through your service provider. Rhode Island Telephone manages the CloudWorx business phone system, which is great for businesses that are growing and need the technical support. 
VoIP enabled phones: Your phones must be VoIP enabled. If you have an analog phone and want IP phones, there are adaptors available. 
An internet connection: VoIP phones only operate with a stable internet connection. As of 2021, roughly 90% of Americans have access to the internet, but that doesn't mean VoIP would work for you if you're in a remote area where the connection isn't stable or frequently goes out in and out. If your internet goes out so do your phones! 
Is your business ready for a VoIP technology?
Does your small business need VoIP? There are pros and cons to most things and you should do your research before taking the leap.  
Cost savings alone usually drive most businesses to investigate internet telephony solutions. There are other "pros" like:
flexibility and mobile workforce capabilities
scalability
video calling
SMS texting 
good voice quality 
But you'll also need to investigate whether or not you have the correct network cabling to support VoIP, and a reliable internet. Ask yourself these questions about what you're looking for in a VoIP solution, and find a telephone service provider that supports you in your needs. Don't assume that the big name providers are giving you the best deal or have the best quality product either. Many small providers have a network infrastructure that provides the same security and geo-redundancy that you'd find with a better known provider, and better local support. 
What is VoIP? Here's the Bottom Line
What is VoIP to the industry? It's been around since the mid-90s, but it received widespread acceptance in the 2010's by some of the largest telecommunication providers across the globe. To put this industry into perspective, worldwide growth of VoIP services is expected to reach over $100 billion by 2026. Especially since the COVID-19 pandemic changed the working landscape, we can assure you it isn't just a trend, voice over IP is here to stay.
So what is VoIP, you ask? It's the future of telecommunications. Contact us for more information.