The ways in which we store data, share information, and hold conversations are fundamentally different than they were just 10 years ago, and why shouldn't they be? If you own a company, then you know keeping up with small business technology trends can seem never ending, but also a necessity to adapt to the current times (and to improve how you do business).  
Since the dawn of the telegraph, communication technology has been developing and improving non-stop. One hundred years ago, landlines were scarce amenities owned by a lucky few who could afford it, but today, they're being phased out for increasingly popular alternatives like VoIP. This is as true in homes around the world as it is with small business technology trends.
In the past, teams could not be geographically dispersed and still collaborate on projects effectively on a daily basis. Now, with recent advancements in business technology like cloud computing, employees can work remotely and still have meaningful and productive work relationships. To celebrate this and the spirit of innovation, we've compiled four of our favorite technologies that are revolutionizing small business trends! 
Small Business Technology Trends Making Waves
#4. Customer Relationship Management Software
Customer Relationship Management Software (CRM software) helps businesses gather and merge their information in order to streamline the data sharing process across all teams and departments. This technology is particularly important for businesses with large sales or customer service teams, because it's all about organizing and monitoring your interactions with your customers.
In the dark days of pre-digital sales, company representatives had to do all of that manually, leading to relatively weak elevator pitches and clerical errors. With the rise of CRM software, data is automatically collected and compiled, allowing your salespeople to focus their attention on each individual customer and their unique needs.
#3. Bring Your Own Device (BYOD) Strategies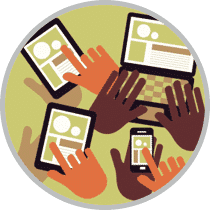 Businesses that adopt Bring Your Own Device policies (BYOD) allow their employees to use their personal devices for work purposes. While this may seem like a nightmare for any IT department, it's a deceptively simple practice. Since 2020, this is one of the small business technology trends that many companies have adapted for remote working.
Switching to a new system is intimidating, and it can take time to get acclimated to brand new devices. When you and your employees bring your own devices to work, you're using phones, laptops, and tablets that you're already familiar with—no awkward transition necessary! BYOD policies also carry a number of business benefits with them: they're guaranteed to save the time it would take to train employees on company equipment, as well as the cost of purchasing, servicing, and replacing that equipment.
#2. Cloud Storage
Unification under the Cloud is extremely beneficial to any corporation with dreams of saving money and expanding its enterprise. In fact, an astounding 82% of companies that have moved to the cloud say that they have saved money. The Cloud has become an essential space for storing and sharing important information and documents. It saves paper, space, and money, while safeguarding against data loss due to natural disasters, theft, and simple human error.
#1. VoIP Phone Solutions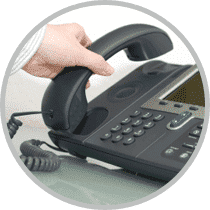 Unlike those restrictive traditional phone systems, VoIP business systems (Voice-over Internet Protocol) allow teams to send and receive calls using the internet. The two main varieties of VoIP– cloud-hosted and premise-based— are specially designed to suit every need. Cloud-hosted systems, like our CloudWorx system, are designed to unify multiple locations and on-the-go workers powered through a shared connection to the Cloud, while premise-based phone systems rely on hardware installed on-site for easy access.
This innovative breed of business phone solutions are not only much more affordable than traditional landlines, but they also come equipped with a number of cutting edge features like paperless faxing, instant messaging, and video conferencing. 
Implementing These Small Business Technology Trends
With the widespread deployment of digital devices and online networking in business communication, we've seen a boom of technological advancements in the past two decades. There's no doubt that trends like advanced VoIP technologies and cloud storage systems have changed the way businesses communicate and teams collaborate!
Smart businesspeople keep a sharp eye on small business technology trends like these, and even smarter ones are implementing these technologies as we speak. At Rhode Island Telephone, we can help you apply these small business technology trends. Contact us for a free quote.