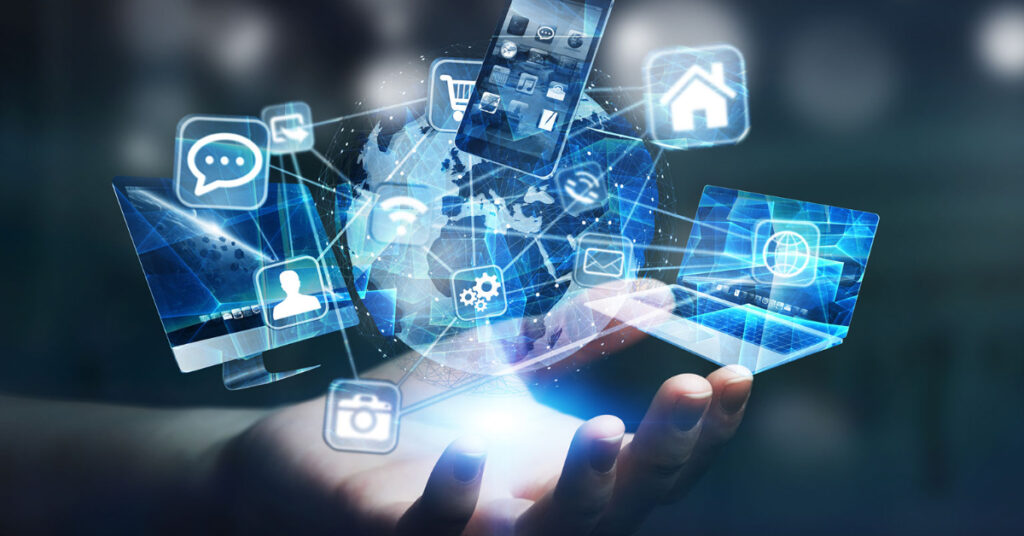 According to recent research studies, the UCaaS market is expected to grow from $48B to $240B by 2030. It's an exploding market, but what is UCaaS? It's an acronym that stands for Unified Communications as a Service and is a cloud-based solution that enables businesses to seamlessly integrate and manage all their communication tools and services in one place. While it's considered a relatively new form of telecommunications technology, based on growth and demand it's certainly here to stay.
As your local UCaas provider, Rhode Island Telephone offers solutions that can help your business streamline your communication processes, increase efficiency, and improve collaboration. We'll help you explore what UCaaS is, why it is important for businesses, and the many benefits that it can offer.
What is UCaaS in Simple Terms?
UCaaS is a type of cloud-based communication solution that integrates various communication tools and services into a single platform, allowing businesses to manage their voice, video, messaging, and collaboration needs all in one place.
What is the Difference between UCaaS and VoIP?
UCaaS encompasses more than just VoIP (Voice over Internet Protocol). While VoIP is a type of communication technology that allows voice calls to be made over the internet, UCaaS includes VoIP as well as other communication tools such as email, instant messaging, video conferencing, and more.
With UCaaS VoIP, businesses can enjoy the benefits of VoIP technology as part of a larger, unified communication solution. VoIP is simply one (important) piece of the UCaaS puzzle.
What are the 3 Main Components of Unified Communications as a Service?
If VoIP is only one part of UCaas, you may be wondering about all the other pieces. There are several functions of UCaaS that can be combined into categories. The 3 main components of unified communications are:
Voice communication (e.g., UCaaS VoIP)
Video communication (e.g., video conferencing)
Messaging communication (e.g., email, instant messaging)
What are the Benefits of UCaaS?
An increasing number of small and medium sized businesses are moving to UCaaS solutions based on the benefits it offers:
Efficient communication and collaboration
Access to communication tools from anywhere with an internet connection
Cost-effectiveness compared to traditional communication systems
Scalability and flexibility to accommodate growing businesses
Integration of multiple communication tools into a single platform
Why do I Need UCaaS?
UCaaS provides businesses with a single platform for managing all their communication needs, allowing them to be more efficient, cost-effective, and flexible. With UCaaS, employees can access their communication tools from anywhere with an internet connection, making it easier to work remotely or on the go. If you have mobile employees, like sales reps or multiple business locations, UCaaS may be a solution for you to explore further.
Since it's cloud-based, UCaaS features are "plug and play", meaning you can add features or take them away at any time. This flexibility gives you peace of mind as you downsize or expand; you're never going to be stuck with features you don't use.
How do You Implement UCaaS?
Implementing UCaaS is a straightforward process that typically involves choosing a UCaaS provider (like Rhode Island Telephone), setting up the platform, configuring users, and testing the system.
The UCaaS provider will typically handle the technical aspects of the implementation, while the business is responsible for deciding which tools and services they need and how they want them to be configured.
In terms of payment structure, as a cloud-based service, Rhode Island Telephone charges a monthly service fee that is determined based on your features. Within the monthly fee you automatically receive the latest updates to the platform, 24/7 local support, and more.
When looking for a UCaaS solution, it's important to choose a trusted provider with a track record of delivering high-quality solutions. There are many companies to choose from, so it's important to do your research and choose a provider that meets your specific needs.
Rhode Island Telephone delivers unified communications enterprise UCaaS solutions to businesses within Rhode Island, Massachusetts, and Connecticut. We will provide you with an honest evaluation and never pressure you into making purchases you don't need. Our quotes are free and we have over 35 years of telecommunications experience to help you make the best decision for your business.
UCaaS is a valuable solution for businesses looking to improve their communication and collaboration efforts. With its many benefits and ease of implementation, it's no wonder that more and more businesses are making the switch.