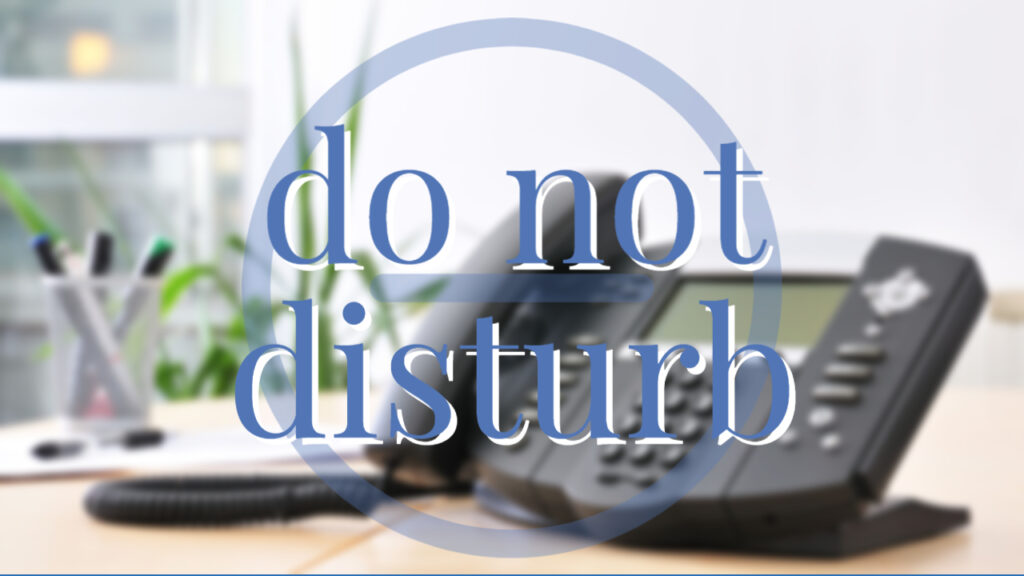 Our Telephone Quick Tip series continues with another episode showing users how to set do not disturb on an NEC phone. Putting your phone in do not disturb mode will block calls from coming to your extension and send them directly to your voicemail. This is a useful feature for users who have an important meeting where outside distractions need to be limited or those who need time to do tasks outside of taking phone calls, like filing or running reports.
Will these NEC Phone Do Not Disturb Instructions Apply to Me?
These directions will apply to users of the DT300, DT400, DT500, DT700, DT800, DT900 and SV8100 or SV9100 phone systems.
How to Set Do Not Disturb on an NEC Phone
The NEC phone allows you to set the do not disturb feature with three settings. The first setting allows you to block only external calls and keep your phone line open for calls coming to you internally from colleagues. You can set it to block only internal calls and keep your line open for calls coming from the outside, or you can set do not disturb to block all calls.
Administrators of your phone system may be able to set call forwarding, meaning when a call comes to your phone line and do not disturb is ON the call will route to another extension instead of your voicemail. We will be focusing on basic user settings in this example.
Press the soft key labels "Prog" (Program). On some phone models you may have to press the arrow key to locate the program button.
Once you have pressed the program button, press the DND (Do Not Disturb) soft key that has appeared.
Press SET to be taken to the next screen to choose which calls you would like to block.
Select and press the soft key for EXT (external), ICM (intercom or internal), or ALL calls.
That's it! Now your calls are forwarded to your voicemail. If there are users that have a button on their phone that represents your extension, it will now blink to let them know you are in do not disturb mode.
How to Turn Off Do Not Disturb on NEC Phone
To turn do not disturb mode off on your phone you follow similar steps as above.
Press the soft key labeled "Prog."
Select and press "Cncl" to cancel do not disturb.
Video Instruction on How to Set Do Not Disturb on an NEC Phone
If you prefer to follow along with video instructions, Carlos will walk you through the steps. Don't forget to like our video and subscribe to our Youtube channel for more Telephone Quick Tips. You can also find more instructions for your phone on our NEC Phone Manuals page.
If you have issues programming your telephone, even if it's not an NEC phone, please contact our support team to assist you.