Cox Communications IP Centrex vs Verizon Business Digital Voice vs CloudWorx in 2020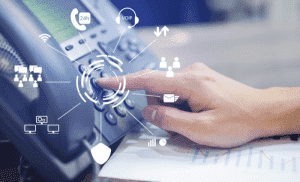 Many businesses are moving their phones to VoIP. However, the market is still fresh, and many companies are competing for customers across the US. Large companies like Verizon and Cox Communication might have enough resources to dominate the industry, but innovative technology based on quality service like CloudWorx is giving them a run for their money. And with these three options to choose from, it might be worth taking a closer look at what exactly sets them apart.
Cox Communications IP Centrex
Cox Communications IP Centrex is a VoIP system that operates out of fifteen states across the United States.
Cox Communication is not the largest company in the United States but provides service, coverage, and support in fifteen states. However, it hasn't led to positive reviews so far from customers who have had significant issues with local customer service and support.
The biggest drawback of Cox is the price of its phone systems. For unlimited calls, you can expect to pay a lot without advanced features usually associated with VoIP for business.
Verizon Business Digital Voice
Verizon Business Digital Voice is a VoIP service for office phone systems and one of the widely used in the United States. Verizon Business Digital Voice allows you to route calls to any number in the office or re-route them to pre-set numbers and manage calls from any location over your device.
Generally, customers are dissatisfied with how long it takes to set up the phone system which depends on how much workload the local Verizon office in your area has.
CloudWorx
CloudWorx is a local VoIP phone system offered by RI Telephone. Unlike previous VoIP phone systems, CloudWorx is hosted on a cloud infrastructure using the broadband Internet connection at your office to provide you with all of the features of a standard VoIP, but with more reliability, better customer service and advanced capabilities.
The system is hosted and managed off-site from cloud data centers in Boston. However, it has a secondary location backed up by auxiliary servers that can quickly take over all of the traffic in case of internet failure.
Because the entire VoIP is located on the cloud, CloudWorx is a dynamic solution intended for growing businesses that require quick scalability. The system works well whether your company operates using five or 500 devices.
And with lifetime support and system administration at no extra cost, it's easy to see why companies continue to place their trust and phone systems on CloudWorx. Despite its smaller scale and local operation.
If you're interested in learning more about CloudWorx and how it can be the perfect phone system for your business, contact us at Rhode Island Telephone and schedule a free consultation.