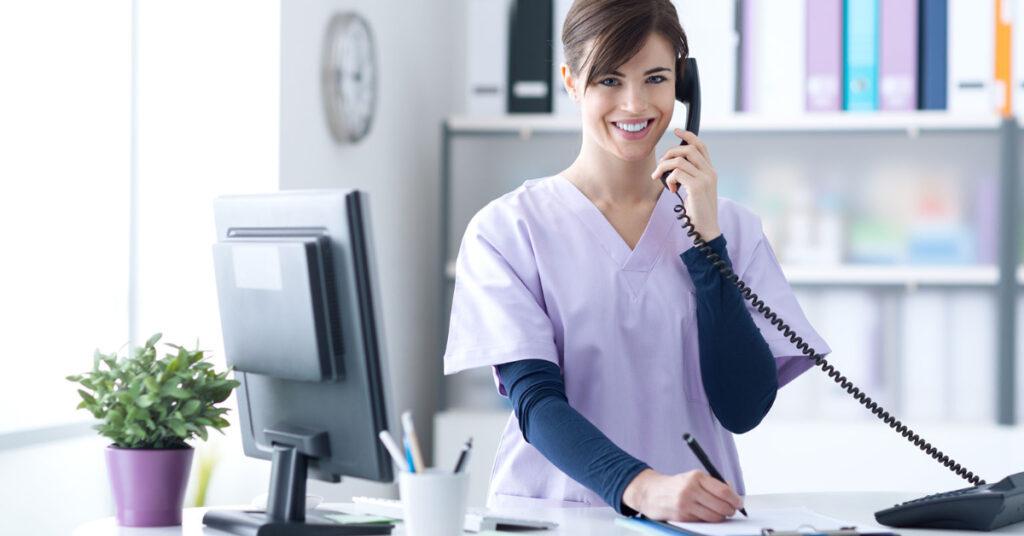 A health care office is a busy place. Doctors, nurses, and office staff must keep in touch with patients and communicate with vendors and other partners. Professionals use a medical office phone system frequently throughout the day to dispense advice to a worried parent, call a fellow physician for a consult, or try to coordinate a prior authorization with an insurance company.
Effective communication is a must for urgent care, rehabilitation centers, and every other medical setting. Seamless communication allows for a higher standard of patient care, which is why health care professionals are turning to voice-over internet protocol (VoIP) phone systems. Is VoIP the right choice for your office?
Medical Office VoIP: Determine Your Requirements
The first step to set up or upgrade your current medical office phone system is to determine your system requirements. Considerations include:
How many phone lines and extensions should you have? Are you planning to add more staff? Do you want to downsize your office? It's essential to partner with a vendor who can scale solutions as your office needs evolve.
How many employees are you planning to add in the next year? The next three? Five? You won't want to spend time investing in and learning a new system that will need to replaced shortly down the line.

Define Your Budget
Private practice offices must consider their overhead expenses, such as employee salaries and utilities, before deciding what they can spend on phone service. Your budget will also depend on whether you are a solo or multi-site location. Cloud-hosted VoIP helps multi-site businesses by unifying all technology under one virtual roof, even when your employees are scattered over a wide geographic region. It also helps synchronize your team's movements, creating an effective continuum of patient care.
Branch office integration allows extension-to-extension dialing, intercom, and paging across multiple locations. In a medical setting, this can prove invaluable.

Fax-to-Email Solutions
A VoIP system with integrated fax-to-email solutions makes your medical operations more convenient. Medical offices still rely on fax technology to send authorizations to insurance companies and referrals for care to specialists. A fax-to-email service allows you to send messages to fax machines via your email service.

Key Features & Benefits of Medical Office VoIP
A VoIP-based medical office phone system has several key benefits:
Scalability: Easily increase and decrease phone lines as your medical office grows.
Cost Efficiency: Medical office VoIP systems are more cost-effective than traditional landlines. 
Disaster Proof: Your entire system will remain fully operational in the event of a power failure or other business-impacting event.
Connect Everywhere/Mobile App: A Bring Your Own Device (BYOD) solution means staff can use VoIP immediately by installing an application on their mobile device, no matter where they are– perfect for an on-call attending.
Seamless Operation: Enjoy 24/7 support and no maintenance costs.
Multi-Level Auto Attendants: Create automated greetings for individual departments and even for days, nights, weekends & holidays.
Call Parking: Retrieve and reroute calls from any extension.
Voicemail to Email: Automatically send voicemail messages to a designated email address. SMS notifications can also be enabled.
Music On Hold: When patients get put on hold you have the option to choose your music and even create messages you want patients hear. Do you have special hours on certain days? Is it a holiday? Weather cancellation? You can ensure patients are a updated with the most important information. 
Video Conferencing: Connect and collaborate with other medical professionals, patients, or family members with the touch of a button. This is a great feature if you have patients with needs that prevent them from getting to you quickly. 
Choosing the Right Medical Office Phone System Vendor
Once you've determined your medical office phone system requirements and desired features, it's time to find a vendor who meets all your needs. Medical offices must have access to consistent, reliable communication with their patients and health partners to ensure quality delivery of health care.
CloudWorx, our hosted VoIP solution, offers all these benefits and more. We are a locally owned and operated company with 30 years' experience and an in-depth knowledge of a medical office's needs.
Whether you're looking to overhaul your existing phones or are setting up a new system, we can help bring VoIP technology to your medical office. For more information, schedule a consultation with the Rhode Island Telephone team.